Description
Balto – Dog Elbow Brace – BT SOFT
WHAT IS IT FOR
Balto – Dog Elbow Brace – BT SOFT is designed to protect the dog in cases of hygromas, sores, calluses on the elbow and bursitis.
The brace is also ideal for use in the presence of conditions such as arthritis, arthrosis or elbow dysplasia. This is because the compression it provides increases the blood pressure in the area, thus raising the temperature and reducing the pain caused by the conditions. It keeps the injured area compressed and is extremely efficient also to protect medications applied to the skin after surgery.
ADVANTAGES
With its replaceable padding, the BT Soft brace combines top performance with maximum comfort.
Used after surgery, it facilitates recovery in trouble-free convalescence.
FEATURES
The brace can be used in pre- and post-surgery.
Breathable fabric.
Excellent wearability.
The box contains two pads (one spare).
Hand washable.
Shortenable bandages.
SIZES AND MEASUREMENTS
Please measure your dog from elbow to Elbow OVER THE BACK.
Basically this is the length of the brace going from one elbow to the other.

| | |
| --- | --- |
| Size | Distance from elbow to elbow over the back |
| S | 35-45cm / 14-18in |
| M | 40-60cm / 16-23in |
| L | 55-90cm / 21-35in |
| XL | 80-110cm / 29-43in |
EXAMPLE OF BREEDS
**Please Do Not Select The Size Of The Brace Based On These Examples, You Need To Measure Your Dog.
S (MIDSIZE DOGS): Beagle, Cocker Spaniel, French Bulldog
M (MEDIUM DOGS): Border Collie, Bulldog, Kelpie
L (LARGE DOGS): German Shepherd, Labrador/Golden Retriever, Rottweiler, Doberman
XL (GIANT DOGS): Bullmastiff, Great Dane, Large Rottweiler, and Doberman…
If unsure or if the measurement you took is between sizes, please contact us.
INSTRUCTIONS FOR USE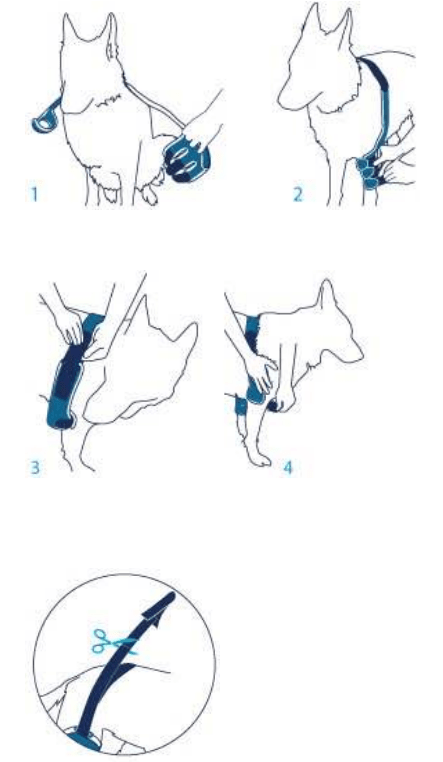 As your pet has the potential to damage the brace or injure themselves, we recommend the supervision of your dog at all times when wearing the brace.
PRODUCT VIDEO
DOWNLOADS
View BALTO Product Catalog
Save
Save