Description
Balto – Dog Shoulder Brace – BT-LUX
WHAT IS IT FOR?
Balto – Dog Shoulder Brace – BT-LUX has been designed to limit shoulder abduction and extension.
Hobbles are often used for a condition such as medial shoulder instability
The BT-LUX dog shoulder brace has been designed to limit abduction and extension of the shoulders of your 4-legged friend.
It can be used for minor issues (like inflammation) and for shoulder diseases requiring limiting movement of the joint.
Common conditions: canine arthritis in the shoulder joint, medial shoulder instability, post-surgery of the shoulder to promote gradual rehabilitation of the joint.
IT IS HELPFUL FOR
Shoulder joint instability
Dysplasia
Joint laxity or hyper-mobility
Dislocation
Inflammation
ADVANTAGES
For better support, stiff material is inserted inside the brace at shoulder height in order to increase compression and limit movement of the joints.
BT-LUX works with your dog to gradually regain motor functions.
The comfortable padding combines practicality, convenience, and optimal stabilization.
FEATURES
The brace simultaneously compresses both shoulders
Breathable fabric
Adjusts for a better fit
Can be hand-washed
CHANGES IN DESIGN OF THE HOBBLE

Please note that the design of the brace has been slightly modified since the photos were taken.
The connections between the legs have been replaced by a buckle on each leg and an expandable band with a velcro fitted between them.
This expandable band can be replaced by a more rigid or progressive elastic band if needed in order to meet your rehabilitation needs.
SIZES AND MEASUREMENTS

| | | |
| --- | --- | --- |
| Size | Approx Dog Weight | Approx Height of the dog (Withers) |
| XS | 5-12kg / 11-26lb | 25 to 45cm / 10 to 17.7inches |
| S | 10-20kg / 22-44lb | 45 to 60cm / 17.7 to 23.6inches |
| M | 20-50kg / 44-110lb | 60 to 75cm / 23.6 to 29.5inches |
| L | 50-80kg / 110-176lb | ONLY GIANT/TALL BREEDS (please contact us before ordering) |
IMPORTANT:
If in doubt or may you think your dog falls out (Bulldogs e.g.) or between sizes, please contact us,  providing pictures for the requested measurements below (taken at your dog's level)
Information required :
-The breed of your dog
-The height at withers (from ground to top of shoulders)
-The distance between the withers and elbow, or elbow to elbow
-The circumference of the torso
The L size brace is for tall dogs! Most of the time, even if your dog weighs more than 50 kg a M size might be adequate. Please contact us providing measurements to double-check.
INSTRUCTIONS FOR USE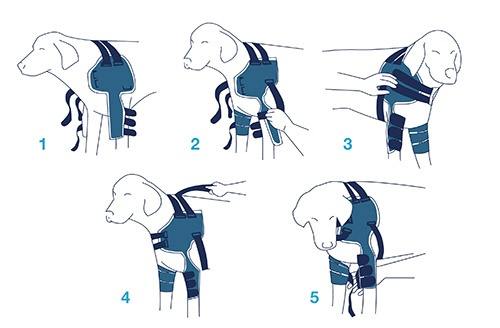 RECOMMENDATIONS FOR USE
During the period of constraint, it is advisable that the dog not be left alone for long periods of time as it might try to remove the brace by biting or scratching it.
The length of all of the straps and closures can be adjusted for a better, tighter fit to the dog.
There are two straps between the elbow joint braces that can be used to bind the joints together.
NOTE:
This solution is only required when used post-operatively or in case of a serious disease that requires great limitation of movement of the anterior joints. If there is no need to bind the two elbow braces, the safety straps can simply be neatly closed upon themselves.
As your pet has the potential to damage the brace or injure themselves, we recommend the supervision of your dog at all times when wearing the brace.
PRODUCT VIDEO
DOWNLOADS
View BALTO Product Catalog