Description
Balto – Dog Neck Brace – BT-NECK
WHAT IS IT FOR
Balto – Dog Neck Brace – BT-NECK is a Dog Neck Brace designed to support necks with Osteoarthritis, Discospondylitis, Vertebral Instability (Wobbler Syndrome), Intervertebral Disk Disease (IVDD) and other neurological issues and hernias.
The compression offered by the dog neck brace ensures compression and traction of the neck, thus protecting it in case of injuries
It is a valid alternative to the Elizabethan collar (cone of shame) to prevent the dog from damaging the stitches post-surgery or helping with obsessive behaviors (licking, scratching,…).
BT-NECK-XXS can be used for CATS and SMALL SIZE DOGS.
ADVANTAGES
Balto dog neck brace is very rigid thanks to its internal reinforced structure. It is a padded and breathable brace so the dog can wear it without interruption (Please see Instructions tab).
It is easier to put on and less restrictive than the Elizabethan collar, allowing the dog to eat and drink without restriction.
FEATURES
Waterproof breathable fabric (in case of rain).
The brace can be worn before and after surgery.
Excellent wearability.
Hand washable.
MEASUREMENTS OF THE BRACE ITSELF
The BT-NECK dog Neck brace is usually not suited for hounds and bulldogs.
Long necks do not allow the collar to stay in place so the brace will slide.
Short necks can be too small for the width (B) of the neck brace.
Please make sure you allow a small overlap of the brace around the neck of your dog.
The brace has to be longer than the circumference of the neck.
Any doubt, please get in touch.

| | | | | |
| --- | --- | --- | --- | --- |
| Measurements | A | B | C | Neck Circumference |
| XXS | 29.5cm | 11.65in | 8.5cm | 3.3in | 4.5cm | 1.77in | For Cats/Chihuahuas size dogs |
| XS | 42.5cm | 16.8in | 12cm | 4.8in | 6cm | 2.4in | 25cm to 35cm | 9.8in to 13.8in |
| S | 50.5cm | 20in | 18cm | 7.2in | 10cm | 4.in | 35cm to 45cm | 13.8in to 17.7in |
| M | 54.5cm | 21.5in | 22cm | 8.7in | 11.5cm | 4.5in | 45cm to 55cm | 17.7in to 21.6in |
| L | 65cm | 25.5in | 23.5cm | 9.3in | 13.5cm | 5.3in | 55cm to 65cm | 21.6in to 25.5in |
| XL | 74cm | 29in | 26.5cm | 10.5in | 14.5cm | 5.7in | 65cm to 75cm | 25.5in to 29.5in |
INSTRUCTIONS FOR USE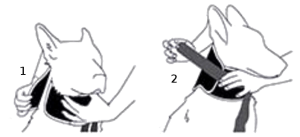 RECOMMENDATIONS FOR USE
For proper use, it is essential that the collar is tightened securely around the neck, to keep it from turning.
While wearing the rigid collar, the dog can be taken for walks using either the collar or a harness.
Over a 24-hour period, remove the collar for 1 to 2 hours.
As your pet has the potential to damage the brace or injure themselves, we recommend the supervision of your dog at all times when wearing the brace.
PRODUCT VIDEO
DOWNLOADS
View BALTO Product Catalog